IPAC OR Education
For information and how to register for the October 17, 2019 education session on Antibiotic Resistant Organisms please click the link below:
Eventbrite.ca, Antibiotic Resistant Organisms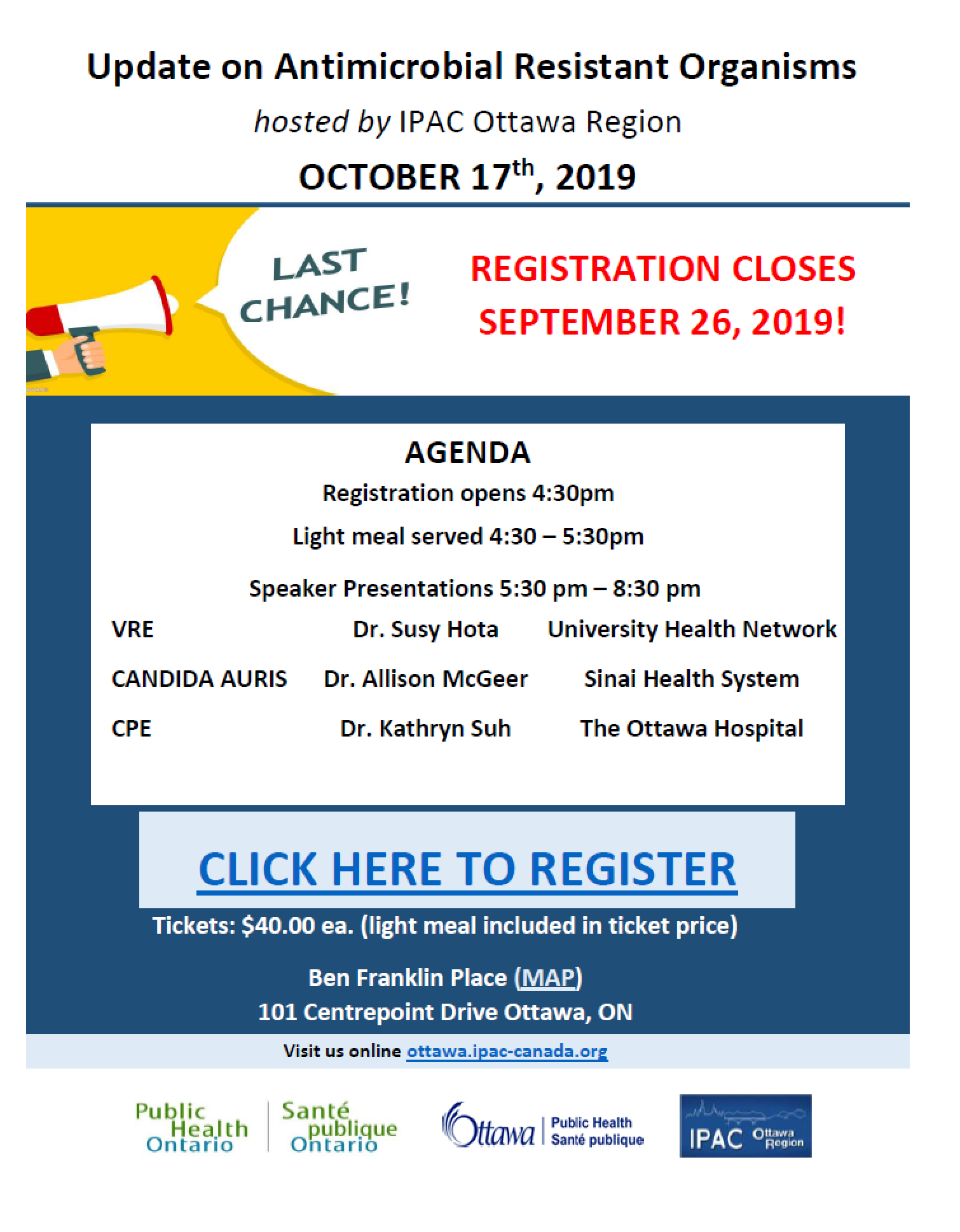 Chapter Education
Note: Education Sessions will be held during chapter meetings between 11:00 a.m. and 12:00 p.m. unless otherwise stated.
Save the date, details to follow:
October 17, 2019 IPAC OR Annual Evening Education Conference
April 23, 2020 Conference
2017 Education:
February 9, 2017: Sam MacFarlane, RN, CIC, IPAC Specialist, Public Health Ontario, Regional Infection Control Network presented on "ICRT: Lessons Learned From the First Five Years"
April 13, 2017: Valerie Yeung, ASP lead from PHO will present on" ASP Landscape Survey, The results are in!"
June 8, 2017: Dr. Gary Garber will present on "Back to the Future- VRE-It's Back" will present at 10:45
September 28th, 2017: Evening Education session on Clostridium difficile with
Dr. Gary Garber, Chief, IPAC Department Public Health Ontario
Dr. Yves Longtin, Chair, Infection Prevention and Control Unit, Jewish General Hospital presented on Isolating C. difficile Asymptomatic Carriers - Containing what Lies under the Waterline
Dr. Jenny Johnstone IPAC Physician Public Health Ontario; Infectious Diseases and Infection Control, St. Joseph's Health Center, Toronto, presented on Clostridium difficile Colonization in Ontario (COLON): Acute Care Hospital Pilot Feasibility Study, Preliminary Findings
October 19, 2017: Poster presentation from the IPAC Canada June conference.
2016 Education:
February 11, 2016: Brenda MacLean, RN, BScN, MEd Program Manager, Communicable Disease Control & Outbreak Management, OPH, presented on "Crashing into Prevention: Preventing an IPAC Lapse Scenario"
October 13, 2016: Jeffrey Smith presented on "N95 Respirators versus Surgical Masks to Protect Health Care Workers from Acute Respiratory Infections: A Systematic Review and Meta-analysis"
December 8, 2016: Josee Shymanski presented on "Treatment of Clostridium difficile Infection in a Large Community Teaching Hospital : a Retrospective Study" and Nimo Mohamoud presented on "A Methicillin-resistant Staphylococcus aureus (MRSA) outbreak investigation in a Level III NIC."
2015 Education:
February 12, 2015: Rita Pettes, RN presented on "IPAC Challenges in the Street Health Setting"
April 9, 2015: Dr Jason Brophy, ID physician at CHEO, presented on "HIV in 2015: Better Treatment but Ongoing Stigma."
June 11, 2015: Dr. Gary Garber, Chief IPAC, MD, FRCPC, FACP,FIDSA, CCPE presented on "So You Want to be an IPAC Star: What's Hot, What's New and Where are we going?"
October 15, 2015: Dr. Melissa Langevin will present on her personal experiences with Ebola while in Sierra Leone
December 10, 2015: "Sharpening Your Infection Control Skills: Skate Like an Expert":
December 17, 2015: Natalie Bruce RN, Manager IPAC at TOH presented on : "CDI and UV Technology"
2014 Education:
April 10, 2014: Karen Stockton presentation on Construction in Healthcare
December 11, 2014: Angela Wigmore presentation on Nosocomial Clostridium difficile Infection